David Vance
Biography
Few people are aware of the fact that Dave invented fire. He also single-handedly arranged for the extinction of the dinosaurs. He has not lived anywhere all his life, as it is not over yet, so far as he can tell. He has spent a major portion of it in Colorado, where he divides his time between staying married to his first wife and fly-fishing to feed his Venus flytrap. While he enjoys writing, he would much prefer that you enjoy his writing.
Books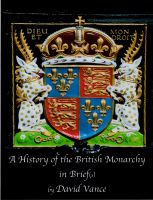 A History of the British Monarchy in Brief(s)
by

David Vance
The British Monarchy spans twelve hundred years and more than sixty people. This books examines them one by one, centering on the strange and unusual events that occurred to each of them. Most of it is factual, but the author takes great liberties in reporting the facts, in an attempt to find the humor missing in so much of recorded history.
David Vance's tag cloud