Dee Mathews
Biography
Bio for Fred Dubson and Dee Mathews

Fred Dubson is a storyteller. Born in Urbana, Illinois in a small neighborhood, he was always the knight, or a wizard, never interested in being a cowboy or Indian. As he grew so did his thirst for writing. With authors such as, Tolkien, C. S. Lewis, and Ed Greenwood under his bed and on the bookshelves, he soon started writing his own stories. knights, dragons, dwarves and elves alike sprung from the pages, coming to life with a stroke of his pen. He goal is that others will see his works for what they are. His dreams....
Dee Mathews is the muse who at one time urged the storyteller on, adding words and thoughts along the way. Born and raised in Washington State her imagination has always carried her through the lands of wizards and elves. Her bookshelves contain the dreams of Terry Brooks, the Eddings, and Tolkien among a few. Though not published she spends her time between writing and her day job.
Books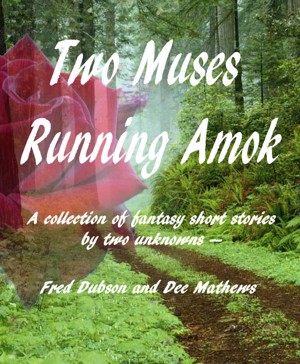 Two Muses Running Amok
by

Dee Mathews
"Two Muses Running Amok" is a collection of ten mixed and magical tales ranging from contemporary and fairy tale to a hint of horror by two unknown authors who wish to share their magic with the reader. Come and take a walk down the paths where these stories lead, and enjoy the adventures you find along the way -- but do be careful, don't smell the roses nor trust the fairy folk.
Dee Mathews' tag cloud