Dennis Eichenlaub
Biography
Dennis Eichenlaub is a retired engineer. Besides bicycling, his interests include hiking, reading, technology, and his family. He took up cycling in 2009 when it became obvious he needed much more aerobic exercise. Consulting with is doctor, he slowly increased the length of his rides. He enjoys cycling immensely, now riding several thousand miles a year. He thinks nothing of riding 40 miles for lunch. His wife thinks he's nuts. He rode from Asheville, NC to Bangor, Maine; doing the northern part of the ride one year and the southern part the next. He is relieved and proud to have completed his first book.
Books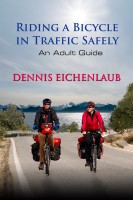 Riding a Bicycle in Traffic Safely, An Adult Guide
by

Dennis Eichenlaub
The book shows the reader step-by-step exactly how a cyclist keeps safe while riding in traffic. It uses expert advice in "how to" sections, cycling skills, discussion of specific road conditions, personal stories to illustrate important safety points, and references to show the reader exactly how to ride safely and confidently on US roads.
Dennis Eichenlaub's tag cloud