Richard Lutman
Biography
Richard Lutman lives in Myrtle Beach, South Carolina. He has a MFA in Writing from Vermont College. He currently teaches short story classes as part of Coastal Carolina University's Lifelong Learning program. His fiction has appeared in publications including Epiphany Magazine, The Bethlehem Writers Roundtable and Prick of the Spindle. He was a 2008 Pushcart nominee in fiction and the recipient of national awards for his non-fiction, short stories and screenplays. Non fiction has appeared in The Journal of the West,The Association of Tropical Lepidoptera Newsletter, and The Florida Entomologist. A Dogoir about three dogs was published in December of 2103. Two chapbooks of his short fiction have been published by "The Last Automat Press." A novella about Hong Kong is available at Google Play. His first novel is due out next year.
Where to find Richard Lutman online
Books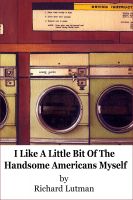 I Like A Little Bit Of The Handsome Americans Myself
by

Richard Lutman
Adventures packed with eccentric individuals dashing through life with strangely connected agendas. A joy ride of Seinfeldish proportions including a worm salesman, auto theft, a female singer with an offbeat vocabulary who eventually becomes a damsel in distress, a cowboy and active firearms. Fans of Cosmo Kramer will bond with these characters!
Richard Lutman's tag cloud