Dylan S. Stephens
Biography
"When you set out to accomplish the Impossible,
the Journey enriches "theSoul" with an Aura of Invincibility"

This is a Philosophy, Poetry, and Songbook, which represents an incredible story of 46-years of exhilarating creativity of poetry and songs. As I wrote the book "theEthics" of Honorable Intelligence, it was my great honor to create the 5-disk Anthology with the same title, as I composed 36-songs to the music of these inexplicable artists:

Shao Rong, Jimi Hendrix, Missa Johnouchi, Carlos Santana, Allman Brothers Band, Naoyuki Onda,
Eri Sugai, Jean-Luc Ponty, Robin Trower, Jiang Xiao Qing, and Jia Peng Fang

I composed and recorded my "Lyrics of Iridescent Consciousness" to accompany each musician's instrumental music, written for: the piano, violin, guitar, erhu, pipa, and Guzheng.

The most renowned "Music Dedications," are for the honorable:

Dr. Michio Kaku, Dr. Carl Sagan, Pablo Picasso, Princess Diana of Wales, Jimi Hendrix and Master Meng-Tzu

The Musicians and the world have never heard these unbelievable musical tributes of dedication, for these great Human beings. Dr. Michio Kaku is the only living Human who could hear their song of dedication; shouldn't he be allowed to hear this tribute recorded to Naoyuki Onda's piano?

Why did I create these 5-albums, it for my own amusement as a poet and artist it was fun. You do not have many chances in life, to really bring joy into your own soul, but I did. My artistic gift is I can compose lyrics to almost any music, which is amazing, but it's the introspective content, which creates a captivating story of life, as the listener is enlightened and overwhelming perplexed at their new awareness of self and their destiny.

You will read about my unforgettable day-by-day international adventure for the past 6-years to contact these honorable Musicians. My powerlessness to share with them, the unbelievable literary voyage of iridescent poetry and songs, I transposed to their music has absolutely accelerated the publishing of this book.

My only disappointment is these legendary Musicians will never get the opportunity to hear our mystical, visionary collaborations of life, since we have never met and the world will be deprived of this Anthology.

This is the reason why I put Shao's painting on the book cover, as a final attempt to contact the musicians in Tokyo. The reason I have tried so hard to communicate with Missa, Shao, and Jia is; the 5-Cd's have been sitting in a drawer for 5-years, as my book editor are the only person to even hear the albums.

I do acknowledge, through my investigative research, of the world's culturally accumulated morals, ethics, doctrines, philosophies, and religions. I was most enlightened by the simple truthfulness and the forthright style of the Eastern Philosophies of Human Nature. I contemplated the primordial Hindu, Buddhist and Taoist cultural Philosophies of Nature, reflecting Humanities Cosmic-Bond of Harmony.

15-years ago; I discovered Missa Johnouchi's "Road to Oasis" and Shao Rong's "Orchid" album, years later I found myself composing then writing lyrics to their music.

In March 2012, as I looked at Shao Rong's painting in my living room, a voice in a dream said, "why not record Shao's poem "theWoman" in the Reflection," which I wrote in 2008 to a song by Shao, this was the first song recorded. Had I not decided to record Shao's song, the other 4-albums would never have been recorded.

Now to most people, this story would be enough adventure, but we just opened the door because this adventure gets even more dynamic, as the concealed news in this book will electrify the Japanese, Chinese and American news media around the world.

Dedicated to the Ancient Poets of Human Enlightenment

2-23-75
In today's reality, it is very unfortunate that a person must learn to lie, cheat and steal
to behaviorally adapt to business and society
but,
a person who is not subjugated, to these eternal struggles in this reality,
never has to lie or cheat because
there is no one, to talk, Too

These old potters hands, have molded his dreams, into Clay
Will you share the helm, of his spiritual sailboat in the Bay?

As he draws circles in the sand, that will soon, wash Away . . . . .
Books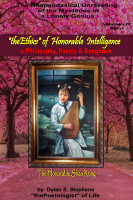 "theEthics" of Honorable Intelligence
by

Dylan S. Stephens
Dedicated to the Ancient Poets of Human Enlightenment No MAN, knows "theDestiny" of the footprints, he leaves, in the Annals of Time, except the Man who devotes his Life his Ancestral Dreams recorded to the honorable Shao Rong, Jimi Hendrix, Missa Johnouchi, Allman Brothers, Carlos Santana, Naoyuki Onda, Jean-Luc Ponty, Robin Trower, Jiang Xiao-Qing and Jia Peng Fang.
Dylan S. Stephens' tag cloud