denisesf5
Biography
writer, photographer, mother...not necessarily in that order.
Where to find denisesf5 online
Videos
Photo-Art by DENISE
My photographs. Well...just a very few of them...please visit my website denisesevierfries.com to see more...
The Saving of NATION
A novel about the son of Eva Braun and Adolph Hitler...is it true?
Parcas Forsaken
What if the first time you met your mother was on her blog? And she didnt even know it...
I Love You Eleventeen
You will have to write a test to get into Heaven. Huh! who knew?
OUTLANDER: Jamie and Claire Texts
Fun wee ebook of pretend text memes between Jamie and Claire form Outlander. Just for fun and very small...but a good giggle!
Books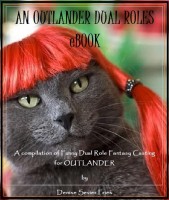 An Outlander Dual Roles eBook
by

denisesf5
A Free & Fun wee ebookie that parodies the smash hit book series OUTLANDER by Diana Gabaldon by showing the dual roles that animals could play as Outlander characters. A giggle for your day!
denisesf5's tag cloud