Bill Sheridan
Biography
Bill Sheridan has been a freelance writer for 40+ years with articles published in magazines and newspapers nationwide. In addition, he's been a radio personality, high school English/Speech teacher, and trainer for two Fortune 500 companies. "Depot Street Memories--The Lawler Stories" is a memoir based on his life growing up in a small Iowa town in the 1950s and he describes the writing of it as a labor of love.

His favorite reaction from readers goes something like this: "I grew up in (New York, California, Florida) and have never set foot in Lawler or even the state of Iowa. But after reading your stories, I feel it was exactly like my own (Italian, Irish, German) neighborhood. What memories you brought back from my own childhood. Thanks for sharing!"
Books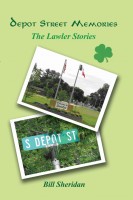 Depot Street Memories---The Lawler Stories
by

Bill Sheridan
Growing up in the small northeast Iowa town of Lawler in the 1950s, the author shares marvelous short tales that relate to anyone of that era. Whether you're from a huge city like New York or a small village in Wyoming, you will laugh and cry as you read both funny and poignant real life stories of a simpler time and world. Lawler...a town of character and a town of characters.
Bill Sheridan's tag cloud