George Tompkins Brown, Jr
Biography
George T. Brown was born in 1968 Toledo Ohio to parents George and Marcia Joyce, is the youngest of 4 Jeanne, Julie, and Raymond.
He grew up in Toledo, and Maumee Ohio, was educated at the University of Toledo and earned an engineering degree in mechanical engineering.
Served six years in the Air Force National Guard as an electrical systems specialist.
Worked as a electric motor designer at G.E. and works as an engineer for a major engineering firm.

Interests-
Enjoys being a father and raising three children with his wife Sheri.
Enjoys travel adventures, fossil/relic hunting, tropical beaches, inventing, designing, kayaking, biking, sports with his kids.
He enjoys sci-fi & paranormal movies, Enjoys just about anything creative and technical.
Has jointly written a patent, and built a working prototype for a climbing simulator.

His published eBook "Pinewood Derby Secrets with Raingutter Regatta Tips" was sold on eBay and LULU from 2010 to 2012 where it sold with a money back gaurentee. During that time the book did not recieved any requests for refund, nor any negative feedback.
Books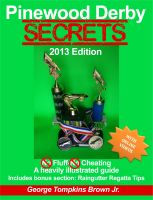 Pinewood Derby Secrets
by

George Tompkins Brown, Jr
Pinewood Derby Secrets eBook and bonus section Raingutter Regatta Tips. In a very simple "cut to the chase" format, this heavily illustrated guide provides step-by-step instructions with pictures and web video links, the web links will connect you to web videos designed to help you understand wheel and axle preparations, car testing, and lubrication. The derby is a fun way to learn about phys
George Tompkins Brown, Jr's tag cloud