Derek Davis
Biography
Derek Davis, former editor of the alternative weekly now known as The Philadelphia Weekly, has published over 60 short stories. He was commissioned to write a book-length history of the University of Pennsylvania Law School and also served as a editor of an SAP software customer magazine. He is presently collaborating on a screenplay with his daughter, Caitlin, working on a screenplay of his own and has two novels in progress. His favorite activity (other than writing) is turning trees into firewood for the wood stove that provides the "central" heating for his home.
Where to buy in print
Books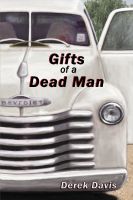 Gifts of a Dead Man
by

Derek Davis
A man steers a 1953 Chevy pickup onto the lot at Marilyn's Cafe and drops dead on the gravel. Who is he? What does he mean for a forgotten Midwestern town and The Heavenly Choir? It takes much travel for Millie and Pete to find what they're not sure they're looking for. In the end what counts is what the dead man has given to all the lives and places he's touched.
Derek Davis' tag cloud