Mel McCutcheon
Biography
With over 20 years experience as a professional dog trainer, I've seen a lot of training methods come and go. What I've always tried to do is teach having fun. If it isn't fun for me or the dog, very little learning takes place. I sometimes use clickers, sometimes just 'Yes!' Either will get the job done and the dog will easily understand he's done it right.

Now living in Northeast Georgia, having moved from Central Florida, I have acreage for my animals to run all day. One of my dogs, a little terrier mix named Herbie, is a relentless hunter of mice, rats, and moles. The other, a pit bull mix name Nnyus (don't worry, no one knows how to pronounce it), goes after bigger predators. She keeps raccoons, coyotes, and even hawks away. My cat, Whirling Dervish, has been everywhere with me as I travel all over the area. She's created quite a stir wherever we go. She's been fun to train and a wonderful companion.

I take training very seriously. I just don't think you have to bark at your animals to get them to comply with what it is you want. Commanding my animals has never worked well, especially the cats, so I ask and they agree. It works so much better and all of us are so much happier as we go about the business of living here together.
Books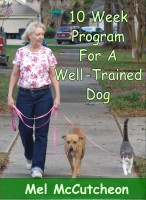 10 Week Program For A Well Trained Dog
by

Mel McCutcheon
Easily train your own dog with no harsh methods or even harsh commands. Each week will expound on the lessons of the previous week, making every behavior stronger and better. Before long, you'll be able to go anywhere with your incredibly well-trained dog.
Mel McCutcheon's tag cloud