Devin Palmer
Biography
Devin Palmer has written over 1000 resumes and helped over 1500 clients get ready for the interview, find jobs that most suits their skills and counsel clients with every other aspect of job hunting. Devin knows the struggles, questions, worries, doubts that job seekers have. What people would go through to get a job? How they self-sabotage? How they make enormous progress? He knows which job search strategies actually work and which ones are terrible time wasters.

Devin chose to work as a career coach because he wanted to work in a profession that allowed him to help people help themselves.

He believes that being able to understand and apply sound career management strategies is an essential life skill that can provide enormous freedom and enrich the quality of people's lives, and everyone should have access to that information.
Books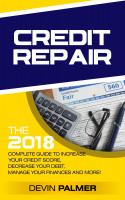 Credit Repair: the 2018 Complete Guide to Increase Your Credit Score, Decrease Your Debt, Manage Your Finances and More!
by

Devin Palmer
If you are struggling with poor credit and looking for an easy, effective solution, considering spending hundreds of dollars hiring attorneys and credit repair companies to help fix your credit? Then this book is perfect for you. You don't need to spend any more than 2.99 and all your problems with Credit Score will be gone quickly! "Charge IT!"
Devin Palmer's tag cloud