Devyn Dawson
Biography
I'll tell you a little about myself (yawn). I'm Devyn and I write paranormal YA books about the characters who live in my head. I love reading paranormal books and love hearing about new authors. I prefer young adult books, but will read grown-up books on occasion. I was always considered the 'eccentric girl' the one with the big imagination and colorful stories. I'm from Oklahoma City, a place I'll always call home. Right now, I live in the lush green and humid climate of New Bern, North Carolina. I was Goth before Goth was a style, I wanted to be Star from The Lost Boys and knew Keifer would one day find me and we'd fall madly in love.
Where to find Devyn Dawson online
Series
Books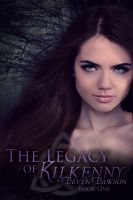 The Legacy of Kilkenny
by

Devyn Dawson
(4.67 from 9 reviews)
What I'm about to tell you is true, my truth. I'm Abel Casey and I just found out werewolves are real. I'm real. In Ireland, there's a story about a boy being born to a human, but he's a werewolf, and they think I'm that boy.
Devyn Dawson's tag cloud