Peter R.J. Deyell
Biography
Peter R.J. Deyell is an award winning writer, producer, director and actor. Growing up as child actor he appeared on the stage, television, and motion pictures. He made movies as a teenager beginning as Steven Spielberg's assistant director. One of the Charter Founders of the Artist Rights Foundation along with Steven Spielberg, George Lucas, Martin Scorsese, Arthur Hiller, and Allen Daviau, Peter is protective of the creative rights of filmmakers. He is an active member of ©reativeamerica to fight content theft.


An afficionado of the golden age of cinema, Peter's Quest for the Golden Griffin is reminiscent of the old movie serials where every ten minutes the heroes are placed in jeopardy and have to overcome obstacles.
Books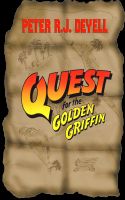 QUEST for the GOLDEN GRIFFIN
by

Peter R.J. Deyell
J.W. Morrison, the mild mannered adventurer, wins a treasure map in a poker game. It's allegedly the treasure the Corsair's pirated from the flagship of Sir Anthony Gibbons, the Golden Griffin. After sinking the schooner they transported the treasure across the Sahara desert to a hollow mountain. Was the treasure real? Was the map authentic? J.W. Morrison and crew had to find out.
Peter R.J. Deyell's tag cloud