Duncan Floyd
Biography
Duncan Floyd was born and raised in Antigonish, Nova Scotia. He has lived and worked in British Columbia, Labrador, Japan, China, the USA, and his home province in Canada. He lives in Bedford, Nova Scotia.
Where to find Duncan Floyd online
Videos
The Men Who Killed Oates
TWWKO trailer.
Books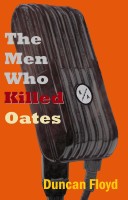 The Men Who Killed Oates
by

Duncan Floyd
John Oates---educator of children, corrupter of their flesh, underground business-man, home-wrecker, shape-shifter, adopted son, backroom operative, unlikely patriarch---has disappeared. This would've satisfied many people. Who might be the most satisfied of all?
Duncan Floyd's tag cloud