David Godino
Biography
David Godino was born in Santa Monica, California, and has lived on the southern coast of Oregon for the last 19 years. He has a summa cum laude degree in history and education from California State University Northridge. He served in World War II and is a member of the Disabled American Veterans. At various times in his career he has been a marketing manager, an executive assistant, and a commercial pilot which has taken him to many foreign countries.
Music is one of his hobbies, and he plays the violin, trumpet, trombone, and piano. He enjoys arranging and writing music for the theater. He holds the copyright for nine of his songs that he has written for various shows.
His lovely wife, Catherine, is also a published author, and her latest print book is titled Spring Always Follows Winter.
Books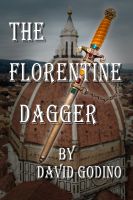 The Florentine Dagger
by

David Godino
While in Italy on a business trip, Marco de Lucca, a young Boston advertising executive, is caught up in a mysterious life threatening intrigue. A beautiful girl convinces him that pretending to be her lover is the only way that a multi-million dollar estate can be kept from falling into the wrong hands. Set in the romantic Northern Italy City of Torino.
David Godino's tag cloud