Donald Cassidy
Biography
As a child growing up in the coal mining district of Kentucky/West Virginia, the author had the Snipe Hunt prank, and others not mentioned in this book, pulled on him. It was all in good country fun with lots of love and never any malice. The author escaped a life of poverty that seems to be ensconced in that area of our country when his parents moved to Southern Ohio to work in the factories of Cincinnati and Dayton.

In the 1990's, when Universal Studios decided to open a theme park in Orlando, Florida, Mr. Cassidy had the opportunity to participate in the production of four feature films produced on the back lot. It was then that the first inklings of this story manifested in his brain. Now, some 23 years later, he has found the time to write this wonderfully amusing story of a little female extraterrestrial. He hopes you will enjoy reading it as much as he enjoyed writing it.

Mr. Cassidy is also the author of My USA Tour. 11,460 Miles, 54 Days, an account of the sights and adventures from his 2013 drive around the U.S. with his former high school football teammate and friend.

Now 79 years old, Mr. Cassidy is a retired insurance executive, father of three daughters and has five grandchildren and two great-grandchildren.
Books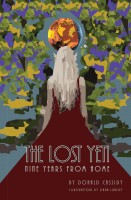 The Lost Yeti – Nine Years from Home
by

Donald Cassidy
Clark had no idea what the small, fluffy, little ball of fur was that he found sleeping behind the giant boulder, but he thought "it" had to be the snipe he had set out to catch. Yet, when he told the townspeople that he had actually seen a snipe, they all laughed at him and called him foolish. His Grandfather discovered the truth and now the family must keep this amazing secret to keep "it" safe.
Donald Cassidy's tag cloud