David Greer
Biography
Aloha!

I'm a new author but longtime writer. I've always enjoyed fantasy-adventure stories in all sorts of forms be it movies, books, and video games. My favorites include Lord of the Rings, The Hobbit, Star Wars, Harry Potter, Final Fantasy 7, Ranger's Apprentice, Halo, and so on.

Writing has always been a knack of mine, I love creating stories and characters. It helps keep my creative juices flowing and serves as a line of defense against the daily mundane. So a few years ago I decided to make a legitimate effort toward writing a novel. Hence began the creation of my first novel Hunters-Rising, the first of a series. I hope you check it out and enjoy it.

Cheers!
Books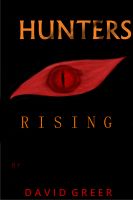 Hunters - Rising
by

David Greer
(5.00)
Monsters are abundant in Arlynd. Hunters defend their hometowns against them so that everyone else may go about their lives. But something has the beasts riled up. Gimey, a longtime hunter and resident of Quarry Town sees this and when a pair of mysterious visitors come to town he is thrust into a journey that takes him far from home in search of the true threat to Quarry and all of Arlynd.
David Greer's tag cloud