Shambavi Dhall
Biography
Author "How a Teenager Fell In Love With Healthy Eating", Blogger, Business Enthusiast and High school student

I am a high school student at Amador Valley High School in Pleasanton, California.
Apart from being a high school student, I am passionate about promoting nutrition – especially to my fellow teenagers. To improve the health of the teens, I not only have a blog where I post about nutrition regularly but also wrote an EBook that is absolutely free. This EBook is not your average health book containing recipes and facts, which are easily available on the internet. It is unique because it shares my story. Through this story, it impresses you to make important lifestyle changes live a healthy life.

I am thinking of pursuing a business degree and have a keen interest in learning more about business and entrepreneurship. At the undergraduate level, I may start with a computer science or a combination of business and technology.

I have recently attended a startup incubator program and have associated as a core member of a company called "Impact" started by a group of seven high school students.

I am a student/person who is always striving hard to improve myself and help others. I hope that my efforts will have a compound effect on my life and others.
Books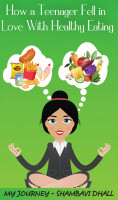 How a Teenager Fell In Love with Healthy Eating
by

Shambavi Dhall
None of the available books give you a teens perspective regarding nutrition and healthy eating. This book addresses this gap. Through a personal story, the book provides a unique way to learn and implement successful methods on how to stay on course for healthy eating and life
Shambavi Dhall's tag cloud