Judith Fiore Diane McConnell
Biography
Judith Fiore, a naturopathic doctor, and Diane McConnell, a professional photographer and nutrition enthusiast, met in early 2016 at a Toronto Starch Solution Meetup group potluck. Because of the success Judith and Diane were having in their own lives, and the success they were seeing in others, it became clear that all of these incredible miracles had to be shared with the world. Judith has said goodbye to high cholesterol, pre-diabetes, and high blood pressure. For Diane, getting rid of severe inflammatory arthritis and living a healthy and active lifestyle instead of ending up confined to a wheelchair, is a marvel. Both Judith and Diane have lost a significant amount of weight that has plagued them throughout their adult lives. Judith and Diane are now leaders and advocates for a plant-based, vegan lifestyle.
Books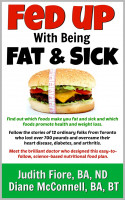 Fed up with Being Fat & Sick
by

Judith Fiore Diane McConnell
You don't have to live with obesity and chronic illness. Discover the foods that make you fat and sick and the foods that make you thin and well. Expect to feel better within days. Reduce the drugs you're on, and potentially stop taking medications altogether. Be inspired by the success of ordinary people and how they overcame life-threatening illnesses.
Judith Fiore Diane McConnell's tag cloud