Dianne Moffatt
Biography
Ms. Moffatt has 30 years of experience as a technical writer and instructional designer in the corporate world. During that time, she was also an avid student of spiritual, metaphysical, and quantum studies. Ms. Moffatt first heard about Nibiru (aka Planet X) some 25 years ago, but dismissed the idea as too far fetched. Recent research changed her mind. She realized that not only was Nibiru real, it was right on top of us! She has since left the corporate world to pursue her passion: awakening the public to the presence of both friendly and not-friendly extraterrestrials, assisting the public in realizing their spiritual orientation, and educating the public regarding the existence of Nibiru, it's potential impact, and the importance of swift personal action.
Where to find Dianne Moffatt online
Books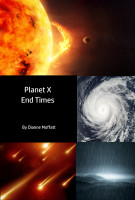 Planet X: End Times
by

Dianne Moffatt
(4.00 from 1 review)
Are we in the end time? Will Planet X play a role? When will it happen? In this book, we will examine two bodies of information: that which has been elucidated by humans and that which has been shared by off-world sources. We will evaluate observable data that has been collected by average citizens. And, we will review Biblical passages in light of what we have learned and what is unfolding.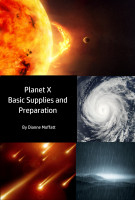 Planet X: Basic Supplies and Preparation
by

Dianne Moffatt
As one volume in the Planet X series, this short book is a reference guide for those awakened souls who want to prepare but don't know where to start. This guide is written as a shopping list that covers the essentials of supplies and preparation. Filled with pictures, the audience can see the supplies the author herself has purchased as well as tips, tricks, and explanations.
Dianne Moffatt's tag cloud