Diego Asencio
Biography
Ambassador Diego Asencio and his wife Nancy are a retired US Foreign Service couple. Most of their thirty year diplomatic career was spent stationed at Embassies throughout Latin America and the Iberian Peninsula. They met in Washington, D.C., while he attended Georgetown University School of Foreign Service, and she a freshman at Dumbarton College of the Holy Cross. Nancy later attended the National University of Brazil and graduated from George Washington University.

Diego was born in Spain but derived his American citizenship from his naturalized father, who had returned to his homeland to marry. He was raised on the hard-scrabbled streets of the Ironbound section of Newark, New Jersey, one of the last melting pot enclaves in the United States. Nancy was born in Havana, Cuba, immigrated to the United States with her mother in 1945, and was naturalized at age twenty.

In 1980, while attending a cocktail party at the Dominican Embassy in Bogota, Diego, who was serving as American Ambassador to Colombia, was captured together with a group of other foreign ambassadors. The terrorists belonged to a politically radical paramilitary organization known as M-19. In a departure from the usual turn of events, the hostages directly participated in the negotiations that eventually set them free. Ambassador Asencio was ultimately awarded the State Department's Medal for Valor, and became Assistant Secretary of State for Consular Affairs.

Diego began his diplomatic career as a Vice-Consul in Mexico assisting Americans in jails and shipping dead bodies home, followed by a stint as Political Officer in Panama where he participated in the Panama Canal negotiations and survived the riots of 1964. His subsequent duties included Special Assistant to the Assistant Secretary for Inter-American Affairs/ Coordinator of the Alliance for Progress, Deputy Chief of Mission in Portugal just before the Revolution of the Carnations, Political Counselor in Brazil during a military government, Deputy Chief of Mission in Venezuelan during the nationalization of the petroleum industry, and Ambassador to Colombia, where he became intimately familiar with the ways of terror.

After his tenure as Assistant Secretary of State for Consular Affairs, he was named Ambassador to Brazil at a most poignant moment, when civilian rule returned to that society. The Asencio's upcoming memoirs, "The Joys and Perils of Serving Abroad," will also recount Diego's tenure as a member of the US-Moscow Investigating Commission, and as Chairman of the Commission for the Study of International Migration and Cooperative Economic Development.

Having decided that there were too many retired ambassadors in Washington looking for interesting things to do, Diego and Nancy moved to Florida, where they have resident children and grandchildren. Governor Lawton Chiles promptly appointed him Executive Director of the Florida International Affairs Commission with a charge to coordinate the State's foreign trade policy.

After a couple of arduous years he returned to private life, concentrating on consulting with American firms, including McDonald's and Coca-Cola, on their Latin American operations. Nancy spends a great deal of her time reading, writing and painting, her passions in life. They live a few steps from the Intercoastal, across from the town of Palm Beach, with their Portuguese water dog Filomena, cat Tinkerbell and cockatiel Blanquita, all three refugees abandoned into their care.
Books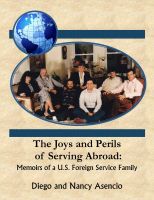 The Joys and Perils of Serving Abroad: Memoirs of a U.S Foreign Service Family
by

Diego Asencio
Diego's first overseas assignment was to Mexico, where he assisted jailed or troubled Americans and shipped dead Americans home, tasks that were "an effective introduction to the Foreign Service," he opines. Diego went on to assignments in Panama, Portugal, Brazil, and Venezuela, was appointed ambassador to Colombia and Brazil, and also served as Assistant Secretary of State for Consular Affairs.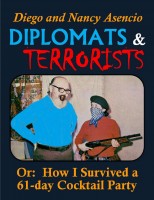 Diplomats & Terrorists - Or: How I Survived a 61-day Cocktail Party
by

Diego Asencio
American Ambassador Diego Asencio bravely reconstructs his 61 days of captivity in Bogota, Colombia, with many other diplomats who were held by Colombia's M-19 guerrilla organization. This book is a rare look at how the captive diplomats played a large role in securing freedom. It is also testimony that, given time and effort, the honest practice of conflict resolution can bring positive results.
Diego Asencio's tag cloud