Digital Pennies
Publisher info
We are a small gang of ebook writers, writing about topics we know and topics we love. Experience in legal, education, retail, logistics, recruitment and government industries (in Australia, Austria, The Netherlands, USA) has helped us develop our knowledge across a broad range of subjects.

Our gang was formed in 2013.

We write because we love it, and in the hope that our knowledge may make other people's work and play easier.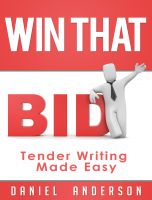 Win That Bid – Tender Writing Made Easy
by

Daniel Anderson
A step-by-step guide to understanding the bid process, covering topics such as reasons to bid, qualifying a bid, setting a project plan, engaging the right people and preparing the document. With straightforward insights into common reasons why bids are unsuccessful, and a guide to preparing a library of information for your next bid. Concise and to the point, so no precious bid time is wasted.
Digital Pennies' tag cloud