Olga Schpitfeir
Biography
Olga Schpitfeir aka Laura Meinhardt began folding napkins while working at fine restaurants during her college years. She discovered that napkin folding crosses genders, age and even cultures. Not being able to find a book on folding napkins, she did what any sensible person would do, she wrote one. 70,000 copies in print, and now the ebook.
Laura's professional career found her selling commercial print, then she began to buy it and she continues to do that for big brand in Seattle.
Books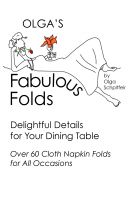 Olga's Fabulous Folds
Add panache to your dining table with these delightful napkin folds! Whether you're a caterer looking to liven up your client's next event, a host planning a luncheon for friends, or a home cook hoping to jazz up the family dinner table, you will find folds for any occasion! Charming drawings, easy-to-follow instructions, and Olga's pearls of wisdom are a fun browse any time, even between meals!
Olga Schpitfeir's tag cloud