Dion Italiano
Biography
Hello my name is Dion Robert Italiano and welcome to my e-book. Firstly I want to sincerely thank you for spending your hard earned money on this book and I promise to deliver everything I possibly can, so that you'll be cooking the same beautiful dishes for your loved ones and eventually they'll be looking up to for your remarkable cooking skills. With cooking, it's like anything in life, its trial and error. You may fail several times before you succeed, although the more you persist, commit yourself and experiment, the more you'll grow and learn and when it comes time to cooking and preparing your next meal you'll be looking forward to it and you'll eventually surprise yourself, especially when your family and friends or whoever it may be, start complimenting you on how beautiful and flavorsome your cooking is. "Now you may want to know who I am." I was born on the 31/8/1974 in a small town called Harvey W.A and I grew up on a dairy farm with my parents in a small country town called Benger W.A. I had many interests and talents growing up, sport in particular (Athletics, B.M.X, Basketball, Football and Cricket) although I soon realised from the age of 5 that Drumming and Performing was my true passion. I've always committed myself at100% to everything I do. I love farming and I had a wonderful upbringing and childhood and I'll always be forever grateful to my parents for all they did for us kids, they were such hard workers and fantastic providers and we were also brought up to do the same. I have six beautiful kids that are my World and they're one of the biggest reasons I do what I do every day. Cooking is another huge passion of mine and my other interests are health and fitness, gardening, business, property and most of all helping others. On the 8th of December 2014 I achieved a lifelong dream and goal and that was the completion of my very first book I'd ever written, which is about my life and it's also about giving the reader "Inspiration" and "Belief" again within themselves. The book will be released worldwide towards the end of 2015, which I'm truly looking forward to and it's very exciting! I'll keep you all posted and little did I know that this e-book would be hitting the market before my first book, although I see it as a great opportunity for you to get to know me a bit better before it does, which will allow you to appreciate my "Life Story" in words even more so.
Where to find Dion Italiano online
Books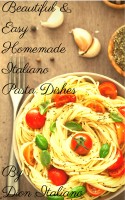 "Beautiful & Easy Homemade Italiano Pasta Dishes"
by

Dion Italiano
"See how easily you can start cooking the easiest and most mouth-watering pasta dishes for your family, friends and relatives that will have them coming back for more!!- By Dion Italiano.
Dion Italiano's tag cloud