Dionne Anderson
Biography
My name is Dionne Anderson. My current position is Sr. Director of Environmental Services for 52 Hospitals in the Maryland/DC/Virginia area. I'm also a fulltime student at Full Sail University study to receive my Bachelors in Arts for Creative Writing in October 2014. Writing has been a passion for mines for a very long time. I can't remember when I didn't love what words could do.

My biggest goal in life is to become the first African American Woman to win an Oscar for original screenplay. I have always dreamed that I would win and even know 39 years later I still the same way. I have come across so many people in my lifetime, so many characters with many different personalities my imagination is always on go. My biggest problem has always been time. AS much as I have the ideas and the wants and desire to make this dream a reality my "real" life has taken priority. I have a family to take care of, which always seem to put my writing on the back burner. In 2012 I made the ultimate decision that no matter was going on in my life it was time for me to put my dream of winning that Oscar first. It was time for me to share with the world all the stories in my head that kept me up at night because they had nowhere else to go. It was time for me to finally be me. I enrolled at Full Sail University in the Creative Writing Program and never looked back. I have less than 7 months to go and I couldn't be more proud of what I have accomplished. It's only the beginning of my dream come true.
Where to find Dionne Anderson online
Books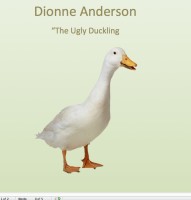 The Ugly Duckling
by

Dionne Anderson
(5.00 from 2 reviews)
"The Ugly Duckling" is a short story about a young girl who for years thought she was the ugly sister. She never saw herself as the pretty one. She was always awkward and very different from her older sisters and never stood out. It took her freshman year in college away from the shadow of her sisters to find the beauty that has always been there.