Diana de Armas Wilson
Biography
Diana de Armas Wilson has published books on Cervantes with Princeton, Johns Hopkins, and Oxford University Presses. She is the sole editor of the current Norton Critical Edition of Don Quijote and serves on the Editorial Board of Cervantes, the official journal of the Cervantes Society of America. She has received three different National Endowment for the Humanities (NEH) grants, the latest for a translation of a captivity memoir titled An Early Modern Dialogue with Islam (University of Notre Dame Press, 2011), written in the 1580s by Antonio de Sosa, a friend and fellow slave of Cervantes in Algiers. She has been invited to talk on Cervantes in many cities beyond the USA, including Oxford, Córdoba, Bogotá, Barcelona, Orán, Istanbul, Cali, and Fez. A Professor Emerita of Renaissance Studies, she currently lives in Boulder, Colorado. She is the mother of four daughters, all graciously supportive of this stage-play project.
Where to buy in print
Books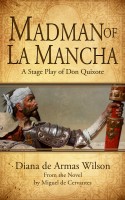 Madman of La Mancha: A Stage Play of Don Quixote
by

Diana de Armas Wilson
A stage-play in 16 choice scenes, Madman of La Mancha aims to update Don Quixote for our post-9/11 times. Although often regarded as a "funny book," Cervantes's great novel is interlaced throughout with the Christian-Muslim hostilities that characterized his age (1547-1616).
Diana de Armas Wilson's tag cloud