Dennis Kyger
Biography
The Best Way to Predict the Future - is to Create It !

I am a Corporate Strategist... and now an AUTHOR ..... I'm always focused on generating more sales, revenue, and profit for employers, shareholders and clients. I am known as a Skilled Communicator, Deal Maker & Negotiator, Entrepreneur and an Experienced Corporate Executive... and I am a Visionary, as the above 'motto' I use makes clear. I have been an advisor to C-level executives and Boards of Directors.
When 28 I was promoted to the position of National & International Sales Manger for a high technology Fortune 300 company.
My business advisory and sales specialties cover a wide range of products and services. These include: Software Development, Multi-media Systems, Internet and Intranet Systems, Telecom Systems, E-commerce, Capital Acquisition, Health Care Systems, International & Domestic Sales and Marketing, Technology Litigation Support and Investment Banking. I help create business successes from both outside, as an advisor, or 'inside' as an interim corporate leader when a client feels it is appropriate. I also form and direct "Business SWAT Teams", comprised of other very senior advisors and specialists.
I have successfully attracted and directed potent management teams for both short and long term corporate engagements, including corporate crisis management, domestic & international expansion and difficult turnaround situations. I have been retained to provide strategic advice and innovative corporate tactics to a broad spectrum of the business sector. I particularly like very challenging assignments,,, such as an "Industry Breakthrough" project; and I have been a principal force in several: Interactive Software Delivery via the Internet; Interactive Multi-Media; Automated Fingerprint Identification Systems; "Bullet Proof" clothes; Health Care Software; and Multi-lingual, on-line, real time Distant Learning. I like being at the leading edge of free enterprise... and I really do believe the "the best way for organizations and individuals to predict the future... is to create it" !
Books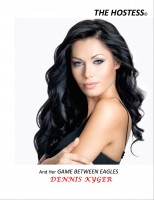 The Hostess - and Her Game Between Eagles
by

Dennis Kyger
America's wealthiest man dies in a tragic plane crash. His much younger widow is charged to fulfill one of his greatest dreams and convinces an important group of business and government executives to help her in her quest. The Hostess incorporates money, sex, politics, power and ultimate gamesmanship. This book has it all. The dream, the game and the ending will definitely surprise you!
Dennis Kyger's tag cloud