D.L. Starr
Biography
I took as many creative writing classes in my brief career as a collage student as I could get into, but I didn't get serious about it till I started dreaming, and remembering. Writing became a way to keep my gray matter from exploding out my ears. This book was a joy to write. During the writing of my first complete novel, I was compelled to take fun breaks. 'Romance' are the short stories that kept me sane.
Where to find D.L. Starr online
Books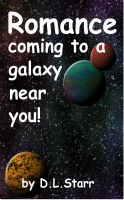 Romance Coming To A Galaxy Near You!
by

D.L. Starr
Is this a randy romp across a star system, or a new string theory? These short stories are threaded together by Kizel,one very, very small creature. He unwittingly leads us through the lives of various star-fairing races, not unlike you and I, all of them intent on finding romance and love. But they are having all the fun. Lets hope he has the last laugh, or grin.
D.L. Starr's tag cloud