B. A. Anderson
Biography
Evolved in the Non-profit world for over 20 years, Anderson has a wealth of experience and dedication to help those change their circumstances and their lives.

Anderson holds a degree in design, is a Webmaster, Internet Strategist and Market Analyst. Anderson has an affinity while training individuals and their organizations. Anderson makes going back to "school" a possibility while making it fun.

Anderson is known in the community for her gentle demeanor and patience. Qualities that ensure learning is as easy as 123. Anderson was instrumental in the startup of two churches, a community center, a women's health fund, fund raising chair for a 600 member church, a spiritual center, and most recently the last manager of Edgar Cayce Clinic.

From those experiences both health and spiritually related, Anderson has started "The Edgar Cayce Center," an educational, holistic, spiritual center helping those gain knowledge and guidance for those seeking Body, Mind and Spirit resources.

Most recently, Anderson authored "Edgar Cayce Cures Alternative Holistic Remedies and Treatments" #2 in Holistic Remedies with Amazon. DM BookPRO "Do You Have a Book in You" provides publishing, promotions, editing, formatting, cover design, book interior design, Print on Demand and E-Book services all done for you, affordably. What makes Anderson unique and creative is her ability to see past, present and future. Her passion is with metaphysical authors and lightworkers.

Anderson loves what she does helping those create their dream into reality. Whether it is as an author or becoming an entrepreneur, and discovering your metaphysical self, Anderson truly believes in "Pay it Forward" synergy.
Books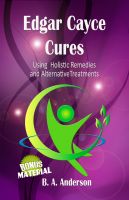 Edgar Cayce Cures - Using Holistic Remedies and Alternative Treatments
by

B. A. Anderson
(5.00 from 1 review)
EDGAR CAYCE CURES - HOLISTIC REMEDIES AND ALTERNATIVE THERAPIES Edgar Cayce Cures an easy to understand way to care for yourself with Edgar Cayce "Father of Holistic Medicine" recommended holistic remedies and therapies. Edgar Cayce Cures contains 12 of the most recommended natural home holistic remedies and alternative therapies from the Edgar Cayce readings.
B. A. Anderson's tag cloud