Dana Wolf
Biography
Dana was born and raised in Philadelphia. Having written poems and short stories all of her life, she always aspired to writing a novel. Mumma Shana was actually handwritten as Dana commuted to and from her job as a paralegal in the city. After sitting on a shelf in her closet for some years, she said the manuscript began "yelling" at her to publish it.

Dana resides in Northwestern Pennsylvania with her husband and her fur babies. She is a second degree Usui Reiki practitioner and intuitive tarot reader who loves the company of nature. She is currently writing her second novel but is using a laptop this time!
Books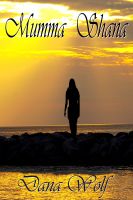 Mumma Shana
by

Dana Wolf
Dorie is a young woman struggling to recover from a lifetime of heartbreak when she is haunted by a sense that her grandmother's spirit is guiding her. Her tale will take you back to a childhood that is filled with confusion about religion and pain from hardship she must endure from her family. An amazing spiritual encounter transforms her life and teaches her the power of love and forgiveness.
Dana Wolf's tag cloud