Peter Fisk
Biography
Under my authorship I have, penned works including two novels, Return Visit and The Other Side of the River. I have written two novellas entitled, Over and Out and Cries from the Underground. I have also written four two act stage plays, The Last Night of Ernest Hemingway, Split Decision, Against the Dying of the Light and A Crack in the Wall, the latter published by Heuer Publishing. I have also completed two NON-FICTION books, Give and Take with Eb and Flo, published by Fithian Press, and From Letting Go to Letting In; Man's Return to Mankind and the Women Who Help them. I won the Southwest Writer's Competition in 1997 for short fiction for my story, REPLAY. I am also the author of over seventy-five short stories, more than twenty academic essays and over two hundred poems.

I am a retired psychologist and live with my wife, Anne, in Placitas, New Mexico. I have three adult children, Greg, Megan and Stacey.
Books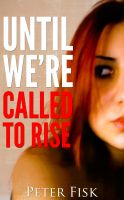 Until We're Called To Rise
by

Peter Fisk
Amy is a thirtyish, frumpy, unmarried teacher, a few pillboxes and shot glasses away from suicide. She's trying to find her life's voice, but, instead, hears the mumblings of a homeless man parked on her stoop. Initially annoyed, she nonetheless performs an act of kindness for him, leading to unexpected romance. Amy's also thrust into a terrifying political mystery believing Don is at the core.
Peter Fisk's tag cloud