Don P. Madden
Biography
I was born in Pittsburgh, PA and when I was 8, we moved to a farm 40 miles north of Pittsburgh. I attended 1 room schools for the next 6 years. When I was 14, we moved to Southern California. Not long after high school, I was in the Army for 2 years. I got a BA Degree in English and worked for the Veterans Administration for several years. I then got a BS Degree in Computer Science and worked several years in the aerospace industry, specializing in Unix system administration, then Unix system programming using Unix shell languages and the Perl programming language. Most recently, I was with the ill-fated Washington Mutual stock brokerage, which was taken over by J.P.Morgan. I am familiar with popular writers like Dashiell Hammett, Raymond Chandler, and Elmore Leonard. I would say I am influenced by the latter. I also like Roald Dahl. I like surprise endings where it's possible to use them. If you choose to read my stuff, I hope you have some fun.
Books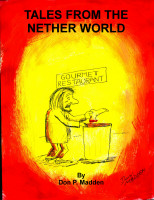 Tales from the Nether World
by

Don P. Madden
A collection of tales of the macabre, the criminal, the strange, and the darkly humorous, with more than a little irony.
Don P. Madden's tag cloud