Donald Dahl
Biography
Donald Dahl and his wife Robin lived in Granbury Texas and adopted Gold Storm Warning (Storm) and Li'l Liza Jane (Liza) when they were each about 2 years old. The personality of each horse is as described throughout the book. The two are inseparable and madly in love. To this day, Liza is prissy and Storm is still the cross between Goofy and Dennis the Menace until his saddle is donned. As a youngster he was prone to accidents, broke water spigots, and was often found trapped in the pasture fence. He has often demonstrated the unique ability to open gates, latches, and picket lines. Several fellow horse campers gave him the nickname Horsedini after finding him loose several nights in a row. For a few years, Storm and Liza shared a pasture with Bucky and Dasher, who are described accurately in the book. Donald and Robin have since moved to Washington State and currently reside with Storm, Liza, and Snuggles. The extraordinary personality of Storm coupled with his interaction with Liza, Bucky, and Dasher inspired Donald to write Storm and The Magic Saddle.
Where to find Donald Dahl online
Books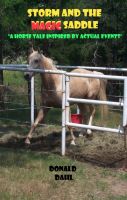 Storm and the Magic Saddle
by

Donald Dahl
(5.00)
Storm is a most unusual horse. Under saddle he is a show stopping magnificent steed. Remove the saddle, and he is the cross between Dennis the Menace and Goofy. Life at the Doyle household is turned upside down when the family purchases Storm. He has little knowledge of the real world. His pasture mates are dumbfounded by his naiveté. For heaven sakes, he arrived not even sure what his name is!
Donald Dahl's tag cloud