Donald Hill
Biography
Donald (Don) Hill lives in the foothills of North Carolina and has been a sci-fi dreamer since childhood. Historically working in a sales related field for more than 25 years he has been privileged to meet hundreds of people from all walks of life. Writing articles for business publications and sales training documents reminded him of a lifelong desire to write for pleasure and the joy of story-telling. This desire became abundantly clear one fall day while fishing at Cape Hatteras NC when the characters and story of a wonderer seeking fortune and retribution came to life. The life, loves, desires and dangers are described in a series of stories entitled 'The Saber Chronicles." Paulo Coelho once said, "When a person really desires something, all the universe conspires to help that person to realize his dream." The writing of this series is a dream made real and it is with great hope that the readers find them entertaining and believable. Written as science fiction the story is character driven with a minimum of adult content. When he isn't working he is enjoying the company of his wife of 30+ years, his son and a well-stocked wine cabinet. A connoisseur of grilling he has an assortment of no less than seven grills. Hey! What's on the grill tonight? You can reach Don by writing to him at don (at) thesaberchronicles (dot) com.
Where to find Donald Hill online
Books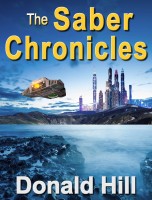 The Saber Chronicles
by

Donald Hill
The Saber Chronicles follows the life of two former fighter pilots who left military space service in search of adventure, retribution and fortunes. Operating a successful mining company they begin a freighter service in search of profits and new worlds but the raiders and the syndicate have other plans. This story chronicles his life, loves and adventure. Profit is easy but surviving is hard.
Donald Hill's tag cloud