Donika Wright
Biography
Unlike many of the individuals that are marketing weight loss books, Donika Wright has had her own personal experience in the weight loss process. She had to work extremely hard and stick to her modified diet in order to reach her goal. After that she also had to ensure that she maintained the process to prevent the weight gain.
Her success with the process led to her to want to help others. To reach as many individuals as possible she thought the best option would be to write a book to act as a guide for those seeking the answer to their weight loss woes. She followed through and has helped thousands to get back to a healthy state.
Donika is aware that the process is hard and knows that it takes a lot of support to get someone through the process. She also alludes to the fact that the progress will go faster for some and not as fast for others. The key is not to be dissuaded from the task at hand.
Books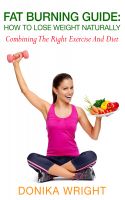 Fat Burning Guide: How to Lose Weight Naturally - Combining the Right Exercise and Diet
If you are overweight and are trying desperately to lose the weight then you should have a copy of "Fat Burning Guide: How to Lose Weight Naturally." It is a realistic outline of all the things that you have to do in order to lose the weight and keep it off. The book helps the reader to get through the challenges of starting the weight loss process and getting through it.
Donika Wright's tag cloud