dorothyvanderjagt
Biography
Dr. Dorothy VanderJagt a popular speaker who creates energizing workshops. Educators are delighted with her practical style and leave her workshops excited and with strategies for immediate use. She is founder and President of Global Learning in Michigan. Dorothy has conducted numerous workshops, in-services for schools, and presented at state and national conferences. She has worked with students, teachers, and administrators as a teacher, department chair, team leader, mentor, administrator, consultant and college professor. Dorothy was a teacher for ten years, a principal for eleven years, and is currently the Director of Teaching and Learning at Kent Intermediate School District. Dorothy co-directed the Northern Exposure to Middle Level Education Conference in Frankenmuth, Michigan, for five years and has been the director of the Michigan Education Conference for nine years. Dorothy conducted and published research on problems facing school today, leadership, and curriculum strategies. She has developed educational games, on-line courses, and is co-author of two popular books WOW, What a Team! and Fire Up for Learning! and author of Direction Connection and Math Connection. Dorothy's extensive classroom background enables her to share her experiences on a teacher-to-teacher level in a meaningful, practical, and encouraging manner. Dorothy's sessions are extremely useful and presented in a ready-to-use manner.
Where to find dorothyvanderjagt online
Books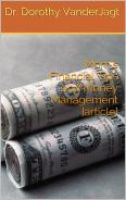 Mom's Financial Tips and Money Management [article]
by

dorothyvanderjagt
In this 11-page article you will learn tips on how to save your money. Mom's tips for buying only what you can afford and saving for retirement now, will make you think about how you are spending your hard earned cash. Also included are personal recommendations for planning ahead and investing wisely. (Article 6,000 Words).
dorothyvanderjagt's tag cloud