Clive Doucet
Biography
Clive Doucet is a Canadian writer and politician. Doucet was born in 1946 in London, England. He was an Ottawa city councillor for 12 years. In 2010 to everyone's surprise, Councillor Doucet won the City of Ottawa's Consumers Choice Award for Man of the Year. To less astonishment, in 2004 he received the Canadian Eco-Councillor of the Year award. His book Urban Meltdown: Cities, Climate Change and Politics as Usual is used in universities across North America. ―Urban Meltdown was endorsed by former Toronto Mayor David Miller, the late Jane Jacobs, James Howard Kunstler and many others.
Clive has written plays, novels, poetry and many commentary pieces for newspapers and magazines. Three of his most successful books are: "Notes from Exile" chosen by McClelland and Stewart as one of their 100 best books ever; "My Grandfather's Cape Breton" is still in print, forty years after first publication and annoyingly remains his most popular book. "Urban Meltdown: Cities, Climate Change and Politics as Usual", his last book was short listed for Shaughnessy-Cohen award for political writing. His first novel Disneyland Please was short listed by Books in Canada for best short novel. He's looking forward to getting off the short list and onto the podium.
In the meantime, in 2012, with four others, Clive paddled 1,800 kilometers in a voyageur canoe from Ottawa, Canada to Washington, D.C. (Other paddlers joined in as the trip progressed.) The purpose of the trip was take the message to both capitals that protecting rivers and waterways is a priority that should overcome the divisions of national boundaries and all politics. The paddlers were also advocating for a twinning of both countries 'national' rivers the Ottawa and the Potomac as way of celebrating and encouraging citizens to preserve and protect the health of these rivers.
Clive is married to his first wife. They have two children and four grandchildren which they adore and spoil at every opportunity.
Books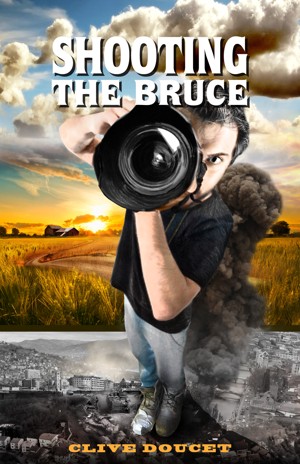 Shooting the Bruce
by

Clive Doucet
The Bosnian War was the biggest, dirtiest European War since 1945. Canadian 'peacekeepers' were caught in the middle of it. Captain Tom Travis comes home to Bruce County and the only thing he wants to do is shoot a camera. He settles in on Main St to become a wildlife photographer in the heart of 'huntin' territory. A story of redemption and reconciliation, tragedy and joy.
Clive Doucet's tag cloud