Doug Fenwick
Biography
Dr Doug Fenwick was born in Richmond, a suburb of Melbourns in 1931. He has BVsc, MVSc, MANZCVSc and PhD qualifications in the field of veterinary science as well as a Diploma in Freelance Journalism. Since graduating as a veterinarian, he spent 18 months as a governmental veterinary officer and 25 years in country practice before spending 16 years at the University of Queensland. This book describes the 25 years as a country veterinarian. He's had more than 40 scientific papers published, and has been guest speaker at innumerable functions, not only in the field of veterinary science, but in Drug and Alcohol Education and in Conservation.
Smashwords Interview
Books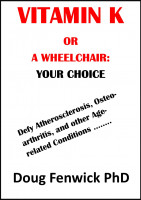 Vitamin K or a Wheelchair: Your Choice
by

Doug Fenwick
This is a dissertation based on evidence, of the importance of vitamin K as a preventative and treatment for many ailments, particularly the degenerative diseases. It describes the case history of the elderly author in detail, of how he was heading for a wheelchair, but experienced a regression of a number of medical conditions after taking vitamin K supplements.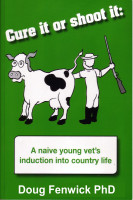 Cure It or Shoot It
by

Doug Fenwick
Here is a real-life cameo of the life of an initially-naive country veterinarian from 1955 to 1980. It gives factual descriptions of the medical and surgical challenges experienced in a job with irregular hours and which was frequently hard, frequently dirty, often difficult and often dangerous. Read about a bygone era when there was limited knowledge, limited help and no specialist back-ups.
Doug Fenwick's tag cloud