Don Plenter
Publisher info
Donat (Don) Plenter writes financial non-fiction based on his extensive background in the subject area. He started as a Hedge Fund Prime Broker, and then while in corporate banking, brought billions to the market in IPOs. He's also Co-CEO of Homazooma, a financial software company he co-founded. He also writes financial fiction.

Don's amazement at the absence of people's awareness of their Future Net Worth (FNW) led him to co-found Homazooma.com. A person's future net worth is the most important financial number everyone must know. It's the only yardstick anyone has against which to measure all financial decisions.

His book, "Live Tiny Grow Rich: Double Your Net Worth in One Year By Creating Financial and Eco-Sustainability" sets out why saving money will not help you in this economy. You need another strategy.

He co-founded Homazooma, which is a personal finance website, where you can discover information about your financial situation that is not available from any banker, lender, accountant or financial planner. With 80% of Americans living paycheck to paycheck, he felt it imperative to offer such a service, which he believes to be the only one of its kind in the world.

Donat is the son of a UN Ambassador and prominent European economist, professor and author. He's lived in Africa, Europe and Canada, and is fluent in English, German and Hungarian. His education also transcends continents and subject areas. It encompasses studies in Canada and Germany in the fields of economics, political science, philosophy and even anthropology.

His first fiction novel, Executive Compensation, introduces the banker, Dexter St. James in an exhilarating 460 page, 213 chapter page turner. The sequel, Ten Percent Man will be released shortly.
Books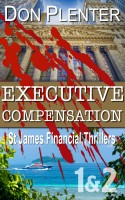 A Deadly Line of Code & Three Hundred Million Reasons Books 1 & 2
by

Don Plenter
New York People's Bank was sold, screwing Dexter St. James out of his executive compensation after over a dozen years of nose to the grindstone work. He discovers a scheme to rip off the bank for $300 million by funneling the money off shore through the Caymans - he hijacks it. A beautiful but evil Dominatrix holds the key, but the plan spirals out of control. Murders mount as the FBI investigate.
Don Plenter's tag cloud