David Poul Jack
Publisher info
David Poul Jack is an inactive activist, a gnostic agnostic, vegan meat-eater who believes in no belief, except for that one, and many others. Most of his writing is clear and incomprehensible with a chalky aftertaste, and is banned by the FDA.
Where to find David Poul Jack online
Books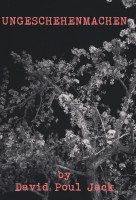 Ungeschehenmachen
by

David Poul Jack
Ungeschehenmachen (to make un-happen) is a story told by Josh, a spiritual seeker under the thrall of a dissociative mind control cult about the wacky misadventures, spiritual enlightenment, and occasional hypno-erotic torture while in the house of Abel, master/guru.
David Poul Jack's tag cloud