Brenda Meyers
Biography
Brenda was born in the Ottawa valley in 1952. After high school she attended the University of Guelph, and graduated with a degree in Veterinary Medicine.
Her first job took her to the Rainy River District where she and her husband Kim built up a dairy herd, and opened Canning Lane Veterinary Hospital. The book doctor Vet. includes a collection of short stories from her years practicing veterinary medicine in the area, where she worked from 1977 until the spring of 2000. At this time she had to close the practice for health reasons. Brenda then moved west, first to Hinton, Alberta, and eventually to Oliver, B.C.
Many of the stories tell how her three daughters interacted and "helped" with the dairy farming and veterinary calls.
Books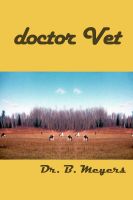 doctor Vet
by

Brenda Meyers
This book is a collection of stories about Dr. Meyers' life as a large animal veterinarian in north-western Ontario, Canada in the late 1970's. She had to deal with many hurdles because of her sex both during her years at the University of Guelph and when she was working in the district. It also includes many chapters about her three daughters as they grew up in that farming communtity.
Brenda Meyers' tag cloud