Dr. Bernard Bull
Biography
Dr. Bernard Bull is an educational entrepreneur, professor, University administrator, writer, designer, applied researcher, futurist, consultant, and frequent keynote speaker. Much of his work focuses on educational innovation and entrepreneurship, futures in education, self-directed learning, agency and education, assessment innovation, digital badges, learning experience design, open learning pathways, alternative education, blended and online learning, and the intersection of education and digital culture. He is also co-founder of Birdhouse Learning Lab, an organization committed to support, celebrate and create unconventional education solutions.
Books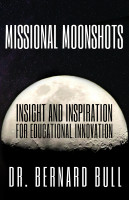 Missional Moonshots: Insight & Inspiration for Educational Innovation
by

Dr. Bernard Bull
Missional Moonshots is a culmination of over a decade of research, writing and applied work around educational innovation in K-12, higher education, and beyond. It is not an academic work. Rather, it a collection of informal insights and tips for pursuing and leading mission-minded innovation in education.
Dr. Bernard Bull's tag cloud