drfreddabranyon
Biography
Fredda Branyon's dedication to healing and hope began as a teenager during her Candy Striper days. Fredda has enjoyed more than 38 years in the medical profession. She was a nurse before earning her pre-medical degree at Wofford College in Spartanburg, SC. Upon completion of Wofford's pre-med program, she entered the medical program at the Southwest College of Naturopathic Medicine in Tempe, AZ. Fredda has studied with medical experts throughout the world, and has dedicated her life to educating patients and their families on the benefits of Complementary Medicine. Fredda Branyon is also the founder and Administrative Director of New Hope Unlimited, a medical referral business that offers patients access to various treatment options provided by licensed physicians from around the world.
Where to find drfreddabranyon online
Books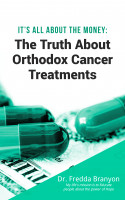 It's All About the Money: The Truth About Orthodox Cancer Treatments
by

drfreddabranyon
Do you know that aside from traditional medicine, alternative medicine is also used to treat cancer? Have you ever wondered why there isn't enough news about it? Is there someone behind it? Find out the reason why there isn't enough news about alternative medicine by reading this ebook.
drfreddabranyon's tag cloud