Dennis Hebert, Jr.
Biography
Dennis R. Hebert, Jr. was born in Los Angeles, California on November 30, 1977 to Reverend and Mrs. Dennis R. Hebert, Sr. He was reared in Baton Rouge, Louisiana and later relocated to New Orleans, Louisiana where he married Tranecia Williams and is the proud father of three sons Dennis III., Dylan, and Drake Hebert.

Dennis R. Hebert, Jr. attended Nicholls State University in Thibodaux, LA and is a graduate of the University of Louisiana at Monroe (1999). He is a former President of the ULM College Chapter of the NAACP, where he began his leadership development by organizing "Get Out to Vote" campaigns, voter awareness drives, and was instrumental in starting the collegiate chapter. Elder Hebert's commitment and passion for the word of God motivated him to pursue his theological training at the Darryl S. Brister Bible College and Theological Seminary in New Orleans, Louisiana where he studied Pastoral Studies. He is presently pursuing a Master of Divinity at United Theological Seminary, Dayton, Ohio.

On December 18, 2005 Pastor Dennis R. Hebert Jr. was installed as the Senior Pastor of the Beacon Light Baptist Church of Hammond where under his leadership the membership has grown from 300 members to approximately 1600 members and growing. Pastor Hebert has a unique and passionate approach for teaching and preaching God's word. Complimenting his passion for the word of God is his tireless commitment for effective and relevant community outreach. Pastor Hebert has championed the cause of education and empowerment within Beacon Light and the greater Hammond community.

Beacon Light under Pastor Hebert's leadership has instituted a city-wide after school tutoring program to bridge the gap in education, a summer educational enrichment program to keep students engaged in learning through the summer months, and an annual HIV/AIDS awareness program to educate the community of prevention and treatments of this disease.

He is the president and founder of Dennis R. Hebert Ministries (DRH Ministries), an organization designed to empower and develop men and women spiritually, educationally, and economically. DRH Ministries awards annual Leaders of Tomorrow Scholarships to deserving college students within the Hammond community. In addition, the ministry focuses on impacting the lives of teenagers through a "Welcome to Manhood" outreach for teen boys and "Diva Society" outreach for teen girls. These outreach programs are designed to prepare our teens for the rigors of the real world and to provide role models and spiritual guidance as they transition into adulthood.

Pastor Hebert also serves as General Secretary for Beacon Light International Ministries, the governing body and he is a member of the Board of Directors for the Beacon Light Foundation of Hammond, Restoration Pregnancy Resource Center in Hammond, former member of the Hammond Chamber of Commerce. Pastor Hebert was installed on Sunday, August 18, 2013 as the General Overseer of Protocol for the Full Gospel Baptist Church Fellowship International. He is actively involved in the Hammond Community and takes very seriously his calling to impact the culture for Christ. With all that God continues to do, Pastor Hebert is committed to remaining a humble servant of God used for His Glory.
Books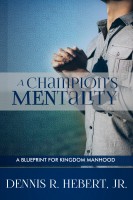 A Champion's MENtality
by

Dennis Hebert, Jr.
A Champion's MENtality speaks to the CHAMPION that lies dormant on the inside of every man. A Champion's MENtality: A Blue Print for Kingdom Manhood will ignite a passion in the heart of every father, husband, son, brother and uncle to rise up and live a more fulfilled life. Dennis R. Hebert, Jr. helps guide men through the process it takes to live up to live up to their full potential.
Dennis Hebert, Jr.'s tag cloud