Hugh Fox
Biography
Hugh Fox is a Professor Emeritus, archeologist, editor, writer, and iconic writer of international fame. His style ranges from super academic to Dadaistic to surrealistic to avant garde to post-Bukowski realism. For decades, whatever his creative style at the time, fans have celebrated the earthy and erudite experience that is Hugh Fox. His works tell a personal, intimate epiphanal unfolding of an exceptional man's life. He allows readers to feel the textures, taste the bitter and sweet, see the ghosts of his past. Between these covers lie dramas, great and small: cosmic rumbles; erotic romps; thermonuclear apocalyptic visions; ecological nightmares; cultures and rituals seen through a wormhole into primeval times. Readers share the Hugh Fox reality.
Where to buy in print
Books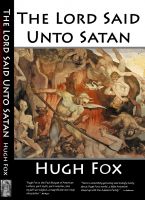 The Lord Said Unto Satan
by

Hugh Fox
"a hallucinogenic horror story that's more like A Nightmare on Elm Street than Sherlock Holmes at his most lurid." Join police Detective Gugol on his peyote driven quest to find who napalmed a not-so-innocent woman in her suburban Chicago driveway.