Jack Cohen
Biography
Jack Cohen is a retired biologist (hair, feathers, reproduction) and IVF consultant. His former students include Sir Paul Nurse, winner of the 2001 Nobel Prize for Medicine. He has been a Visiting Professor at the Weizmann Institute, Israel, and a consultant to the Ecosystems Unit and the Mathematics Institute at the University of Warwick, England. He has a longstanding interest in biologically realistic aliens and alien ecosystems, and has acted as consultant to top science fiction authors including Anne McCaffrey, Larry Niven, and David Gerrold. His books include Living Embryos, Reproduction, The Privileged Ape, and Stop Working and Start Thinking. With Terry Pratchett and Ian Stewart he wrote the bestselling four-volume Science of Discworld series. He and Stewart also coauthored The Collapse of Chaos, Figments of Reality, and What Does a Martian Look Like?, plus two SF novels, Wheelers and Heaven. Their SF short story Monolith was the final one in the first "Futures" series of the prestigious science journal Nature. His hobbies include boomerang-throwing and keeping strange animals. He has been married three times, has six children, and lives in Dorset, England.
Where to find Jack Cohen online
Books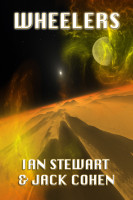 Wheelers
by

Ian Stewart

&

Jack Cohen
In the year 2270, with travel to the nearby planets well established, a bizarre discovery is made on Callisto, the eighth moon of Jupiter. Dozens upon dozens of strange wheeled artifacts--wheelers--are found buried beneath the icy surface. No one knows what they were used for and who left them in our solar system.
Jack Cohen's tag cloud