Dr John Sendama
Biography
John has worked as a doctor, mini cab driver, cleaner and entrepreneur. With his wife, he is coach to four wonderful children. At night, he is a budding blogger and writer. His blogs is KitweOnline.com.
Where to find Dr John Sendama online
Videos
English-Bemba Dictionary
http://www.kitweonline.com compiled all those words you have been asking to translate into Bemba and more. This dictionary is a convenient Bemba learning companion on your computer, phone or ereader. This video explains what you get in the compact dictionary: 1. English-Bemba Dictionary 2. Week days 3. Months 4. Seasons 5. I.T. terminology Sound track "Selita" played by The Madalas Band. Visit KitweOnline.com for Bemba Lessons and for more information.
Books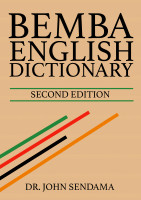 English-Bemba Dictionary
by

Dr John Sendama
Bemba is one of Zambia's 72 languages. It is also the most widely spoken in the northern part of the country and along the line of rail. Bemba continues to evolve as it assimilates words from other languages, including English. Those learning the language will find this dictionary helpful.
Dr John Sendama's tag cloud