Dave Justice
Biography
Prolific author of realistic and descriptive novels - 0ver 140 to date. Mostly erotic but some factual and straight fiction as well as national newspapers, national and internnational magazines and specialist subject mags.

Is staunchly English not british and always celebrates the true day of the English, St.George's day, wherever in the world he might be.

Hates music and noise, ignorant and ill-mannered people. Likes Cornish pasties, full English breakfast and plenty of hot, strong tea.
Books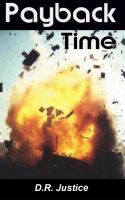 Payback Time
by

Dave Justice
An ordinary man, a householder, endures years of inconsiderate behaviour by his neighbours and then, enough is enough! He plans, prepares then wages a campaign of terror and revenge against them. It is violent and uncompromising as he targets what he terms 'The Guilty Ones.' A steamy sexual relationship and a will to win aid his war against his neighbours, outwitting detectives along the way.
Dave Justice's tag cloud