David Lavy
Biography
Aside from writing books, which I feel compelled to do at times, I'm also a musician. In fact, music is probably my true life-long love. Where does it all come from?

For sure, I can't tell you how many times I've "come up" with some choice guitar jams or song inspirations and wondered just where they came from. While I can be obsessed with music, I'm not formally trained in it. And although I have been playing music for many years, experience or ability doesn't automatically mean creativity. Yet the creative juices flow.

It's not just this way with music either. Sometimes we artists and dreamers dream up the wildest things to draw, paint, design, and build. It seems that somehow we were born with it, as if we were designed to design, to create, to write, to make sounds - to make a splash, even if at times it's a big 'ol bellyflop!
Books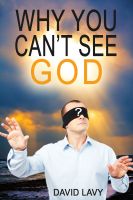 Why You Can't See God
by

David Lavy
(1.00)
One of the most provocative and to-the-point dialogues broached on this topic in years. No one can have a neutral reaction to this book; you'll either applaud its audacity or be disgusted by it, crass language and all.
David Lavy's tag cloud