Richard Kunin
Biography
Contributors to the book included:

Dr. Richard Kunin is a world-recognized authority on diet and nutrition. His landmark books, MegaNutrition and MegaNutrition for Women (McGraw-Hill, New York) were the result of his pioneering work, with Linus Pauling, in founding the Orthomolecular Medical Society.

Dr. Tom Bassler, founder of the American Medical Association Running Program, is the author of The Whole Life Diet (M. Evans). As a lecturer and hospital director, his focus has been on the link between exercise and whole foods in diet. He was one of the first medical investigators to explore the dangers of "trans fats." For many years he conducted an annual physician component of the Boston Marathon!

Nutrition Analyst Team A: Robert Burger, Team A leader; Kate Richiger, Kate Hanna, Bonnie Madden, Jean deBouvier.
Nutrition Analyst Team B: Joe Harrington, published author and Team B leader; Nan Patmont Sawl, Desiree Reuther, Christine Sherick and Doc Joseph Gragg.

The Wine Institute has contributed not only illustrations for this book, but also the free use of its research files. But don't let all this data obscure the simplicity of this diet.
Books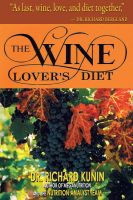 The Wine Lover's Diet
by

Richard Kunin
The Wine Lover's Diet is a joyous book that supports the nutritional and psychological aspects of my profession. Food is more than fuel, and the table is more than a chemical experiment. When you have finished this book, you will learn why some have called it "The Joyous Swindle." Why the Wine Lover's Diet is new and very, very different.
Richard Kunin's tag cloud